Latest News
The Complete Package
The autumn see's Emicon and Lighting company SVL team up to provide a complete package of sound and lighting for clients requiring this.
Forging Ahead Locally Begins
November 5th 2009. The start of Emicon providing systems locally on any scale, see's 25,000 - plus -  people brave the weather for the annual Fireshow in Bitts Park. This years theme was  " Love Carlisle" and yes,  they loved it.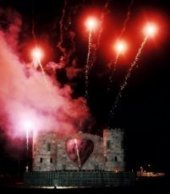 Event Organisers commented that the sound quality at this years Fireshow was " Far Superior" to anything they had ever had in previous years.
Can we fix it? Emicon can!
A busy year for Vince, with childrens favourite Bob the Builder taking to the stage across America and Canada. "My own kids were actually interested in my work for a change" commented Vince.
Returning  from across the water to help colleague Dave supply and look after 2 stages at "T in the Park 09", the pair worked on the "Slam Tent" where a Martin Audio line array covered, on average, 10000 people dancing away to internationally renowned DJ's with American band "The Streets" one of the main attractions, while other members of the team covered "The Futures Tent" where a Martin Audio system of W8C's allowed up and coming bands to show their worth.
Vince also picked up the monitor engineering gig for "John Barrowman" of BBC's Torchwood and Dr Who fame, which rounded off a pleasant summer.
Joining forces with Dave Pringle
2009 saw Vince  join forces with long term friend and colleague Dave Pringle, the pairing brings nearly 50 years experience to the market and takes Emicon to the next level of professionalism. Some of the recent projects Dave has headed are: 
Live at Loch Lomond  involved 2 stages and 4 tents featuring The Sex pistols, Groove Armada, Idlewild, Happy Mondays, Carl Cox, Sasha, John Digweed and many more. Equipment used included Martin Audio W8L line array with Midas Xl4/H3000 consoles on the main Stage,  L'Acoustics V'dosc on the Second stage and Martin Audio  W8C in the tents.
"Skins"  Launch Party at the Fruitmarket, Glasgow featuring DJ Annie Mac, Pendulum & DJ Yoda. Equipment included the Martin audio W8C system.
Fantazia at Braehead Arena, Glasgow - 8000 capacity - 14th February. Equipment used  included the Martin Audio W8L line array, the Martin Audio W8C systems and the Martin Audio W8C/WS218 system.